For more information, contact: 
about the program
We are proud to offer vocalists a unique curriculum that includes 100 hours of training in vocal improvisation with an option to participate in a creative vocal ensemble, which includes a culminating final concert. This program will be held at  
iMusic School Rome
 in five weekend sessions, November 2015 through April 2016.  
Level 1 Program Description
 / 
Schedule
   Program Options 
Fees
 
1) Vocal Jazz Academy - Weekend sessions

$

1400

 
2) Creative Vocal Ensemble - Friday evenings
$450
 
3) Certification Program - Academy +
     Creative Vocal Ensemble 

$1600

 
vocal jazz academy level 1
Bob Stoloff's Vocal Jazz Academy
includes in-depth training in vocal improvisation, instru-vocal articulation, rhythm, spontaneous group improvisation, stage performance training, vocal technique, and music theory.  Fees include all instructional materials - Bob's books
Rhythmania!, 
Recipes for Soloing over Jazz Standards, Volume 1
and supporting audio. 
FACULTY
iMUSIC SCHOOL ROME:
Director
Principal Teacher
Bob Stoloff

Theory and Harmony
with

Jazz Vocal Technique
with 
Stefania Patanè 
For the Vocal Jazz Academy, students are required to enroll in the full course of 5 weekends. 
Program Description
Schedule
creative vocal ensemble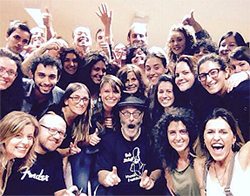 Bob Stoloff's Creative Vocal Ensemble
embraces both traditional and contemporary forms of group singing, featuring works by well-known composers and arrangers.. C.V.E. is also a platform for contemporary group improvisation skills and the creation of spontaneous compositions. Participants will learn how to collate musical ideas, layer parts, sing in tune, achieve vocal blend and keep good time using a variety of tonalities, meters and  stylistic grooves. 
NOTE:
For each of the five scheduled SUNDAY creative vocal ensemble rehearsals we are offering a special vocal technique workshop PLUS repertoire review session with the leadership of Stefania Patene. Singers not enrolled in the certificate program should arrive at 5:00 on Sunday ready to sing. Stefania will work with the singers to develop vocal technique and musical security. Bob will join the ensemble at 6:15 with the certificate program singers and rehearsal will continue under Bob's direction until 9:30. A great night of singing!!  Note the special schedule for the culminating concert weekend.
This ensemble will culminate in a live performance.
Learn more