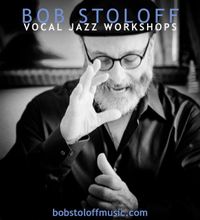 Bob Stoloff is one of the most sought-after teachers in the world of vocal improvisation.  He has expanded the vocabulary of jazz singers around the globe, coining the 'instru-vocal' approach and freeing his students' musical potential with his relaxed, fun, insightful style. To quote Mark Murphy, he 'takes the terror' out of improvising. Below are workshop descriptions; click
here
for a sampling of past workshops.
Coming Up! View Bob's workshop calendar
Workshop Tech Requirements
                       contact Margie to book a workshop for your vocal community or for more information:                                                                                
 margiecaot@gmail.com
---
SCAT SINGING 
Using call-response and phrase-trading formats, Bob will teach fundamental scat singing techniques including scat syllables, accents, rhythms, melodic and harmonic considerations and phrasing. Using a story-teller approach, Bob will teach students how to improvise a solo over basic chord progressions including blues, rhythm changes and common turn-arounds. Participants will practice improvising solos to jazz standards from Bob's "Recipes" book, beginning with Summertime and All of Me. Girl From Ipanema, Autumn Leaves, One Note Samba and more.

Rhythmania Workout Session  
Bob's newest publication, Rhythmania!, is specifically designed to help singers connect with rhythm more intimately and incorporate rhythmic diversity in vocal performance. From funk and swunk to swing-opation, the instru-vocal exercises in this Rhythmania Workout are right out of the book and are comprehensive, challenging and fun to learn! Enjoy singing a variety of contemporary rhythms using special tonguing techniques, percussion, bass & brass articulations with a taste of body drumming! 
*participants of this workshop will receive a discount on Bob's book: Rhythmania!

"INSTRU-VOCAL" ARTICULATION 
One of the more popular modes of vocal expression has always been the simulation of musical instruments.  This workshop teaches vocalists the language of contemporary drumbeats, bass lines and brass articulations using rhythmic patterns, special tonguing techniques and vocabulary for each of these instruments.

RECIPES for Soloing Over Jazz Standards
How To Solo Over Jazz Standards Is a workshop for vocalists of all levels who are interested in learning how to sing original solos over common chord progressions written to popular jazz songs.  Bob will review chord scale and arpeggio patterns using prescribed scat syllable articulation exercises. Then singers will study vocal bass lines, color tones and extensions. As the workshop progresses these primary melodic and harmonic components will be applied to a compilation of jazz standards using a technique called "phraseology." Participants will sing written solos that demonstrate these compositional elements and learn how to use echo-motifs, line contour, rhythm displacement and melodic quotation. Hone your ear training skills by singing the roots of chords, vocal bass lines, color tones, scales, arpeggios, extensions and a solo composition integrating these essential components. The exercises are easy, fun and can be learned entirely by ear if you don't read music!
*participants of this workshop will receive a discount on Bob's book: Recipes for Soloing Over Jazz Standards: Vol.1
 
BODY DRUMMING
Vocalists will appreciate this comprehensive study of contemporary rhythmic patterns and stylistic drum grooves using Bob's unique 'tap-slap-thump" method that includes Jazz, R&B, Pop, Latin, Reggae, Funk, Afro-Cuban and shuffle beats. Body drumming is an excellent way to learn how to feel and express rhythm!
GROUP IMPROVISATION GAMES  Bob's unique approach to group improvisation teaches singers how to create music by weaving together spontaneous rhythmic, melodic and harmonic motifs. Group Improvisation Games offers a diverse palette of musicianship skills to an existing vocal ensemble, choral group or singers in a workshop setting.  Topics can include composition, tonality, harmony, dynamics, meter, instru-vocal articulation, motivic development, group blending, choreography and how to improvise using text. In addition, participants will develop confidence in their own intuitive musicality while learning about building community through both cooperation and leadership. The work deepens with the addition of background rhythm section tracks to provide rhythmic and harmonic scaffolds for vocal team improvisation. Emphasis on time feels, musical styles, groove variations and spontaneous composition.

*Group Improvisation Games is available as a workshop for teachers and choir directors who want to include improvisation in their rehearsals and classroom/studio settings.

How to Lead a Rhythm Section
One of the most essential skills a lead vocalist must develop is the ability to communicate effectively with the instrumentalists who perform with them. This requires notable musicianship skills and familiarity with the musical lingo used by instrumentalists beginning with the core players in the band known as the rhythm section. This comprehensive workshop will teach vocalists all about rehearsal techniques, time feels, count-offs, cut-offs, cues, intros, endings, instru-vocal jargon and how to prepare and navigate a professional lead sheet arrangement. Singers will learn everything  they need to know to become a successful band leader.

STAGE PERFORMANCE MASTER CLASS with live musicians
Stage Performance Master Class is perhaps the most popular training session Bob offers to singers interested in solo performance. Develop leader protocol with live musicians, concert performance techniques with full rhythm section accompaniment. This workshop includes style interpretation, stage presence, phrasing plus effective audience and accompanist communication skills. This comprehensive seminar is open to all levels of experience and embraces any contemporary style of music. Vocalists will be excited to learn how to execute appropriate band cues for count-offs, cut-offs, repeats, turnarounds and changes in tempo.  Songs will be interpreted in different styles by applying various time feels commonly used to change the groove. Essential vocabulary and instru-vocal communiqué will be reviewed to prepare singers for the future role of bandleader!

CREATIVE VOCAL ENSEMBLE
For singers who want an ensemble experience. Creative Vocal Ensemble embraces both traditional and contemporary forms of group singing, featuring works by well-known composers and arrangers.. C.V.E. is also a platform for contemporary group improvisation skills and the creation of spontaneous compositions. Participants will learn how to collate musical ideas, layer parts, sing in tune, achieve vocal blend and keep good time using a variety of tonalities, meters and  stylistic grooves. This workshop can culminate in a live performance and is available as a one time workshop, a weekend, or a week-long offering.

A CAPPELLA WORKOUT
Visual presentation, blend, instru-vocal articulation, style interpretation, stage presence, ensemble skills, grooves, arranging considerations.